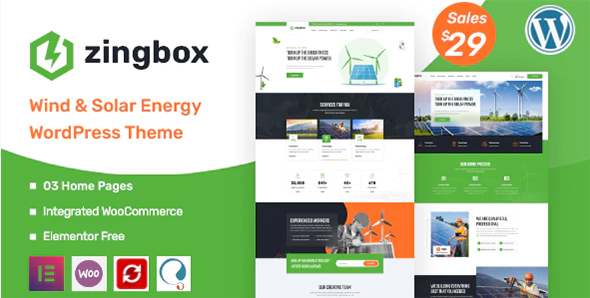 Zingbox – Wind & Solar Energy WordPress Theme, unique and easy to use solar theme
Solar battery theme is the theme chosen by many people to build websites. Currently, on Themeforest is selling a lot of themes about solar batteries and related services. Among them, it is impossible not to mention Zingbox – Wind & Solar Energy WordPress Theme by Themesflat author which is selling very well on Themeforest. Here, read this article to understand its usage and unique features that only Zingbox Theme has.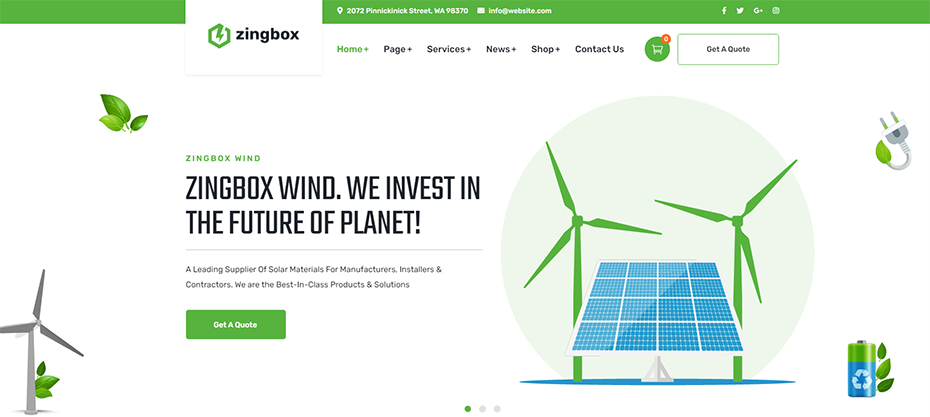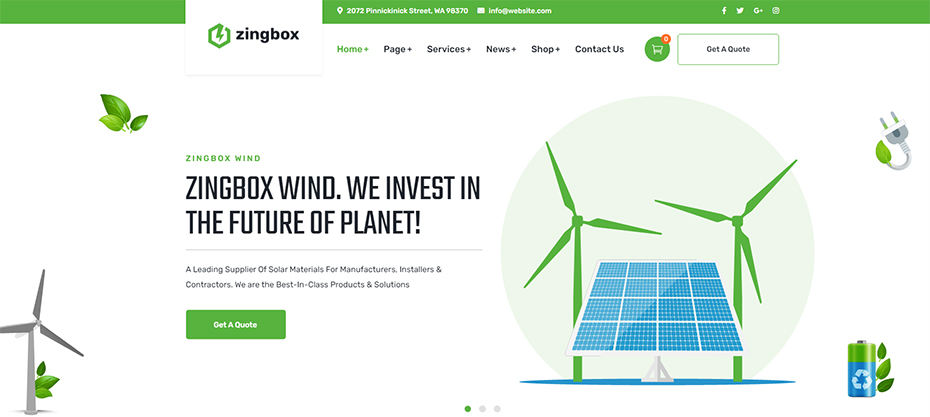 You can find and order the Zingbox – Wind & Solar Energy WordPress Theme products here. We are always ready to support, guide how to install, and other related issues with The Zingbox Theme. To understand how to use it, you can read the documentation here. in which we will show you how to install and use all functions of the Zingbox Theme.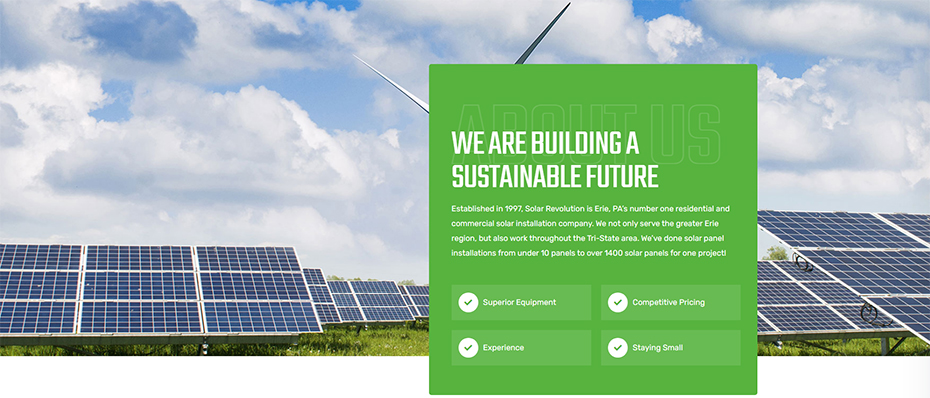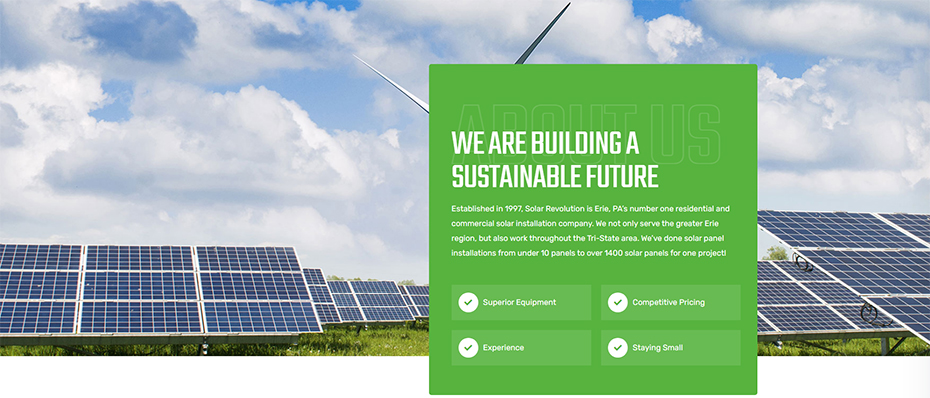 If you are looking to build a business website about Solar Energy, Alternative Energy and Green Energy projects related to green energy, Solar panel solutions, Solar panel systems, Energy sustainable, solar energy, wind turbines, solar power, green energy company, windmill products, solar battery chargers, solar cells, hydro, electrical, free energy Cost, Geothermal Energy, Biomass, Biofuel, Eco-friendly Technology, Bio & Organic Store Website then Zingbox is a great choice.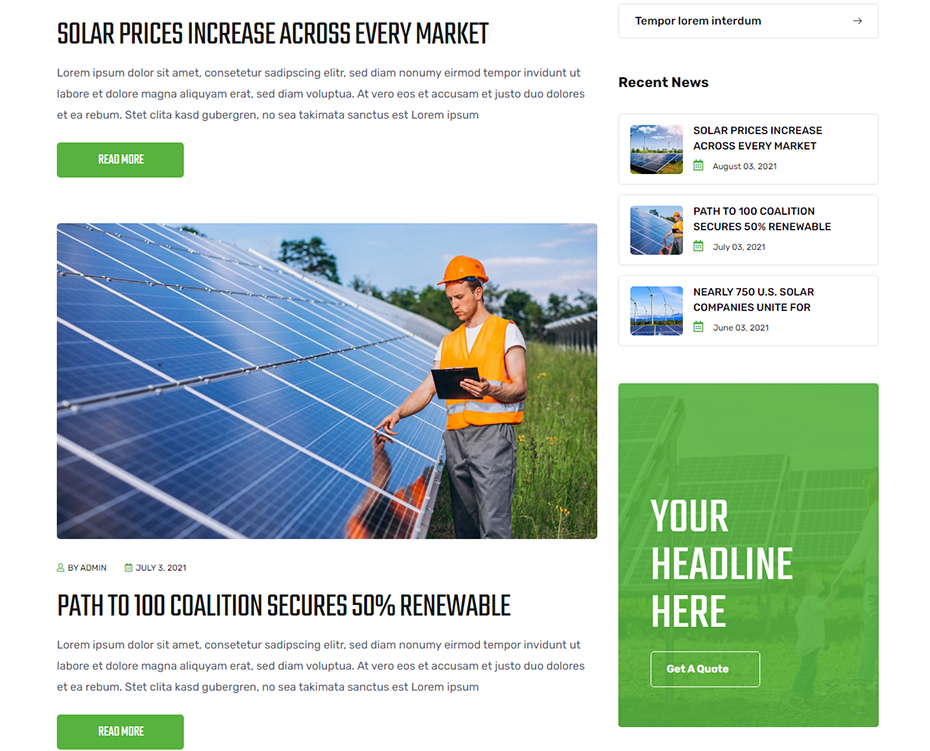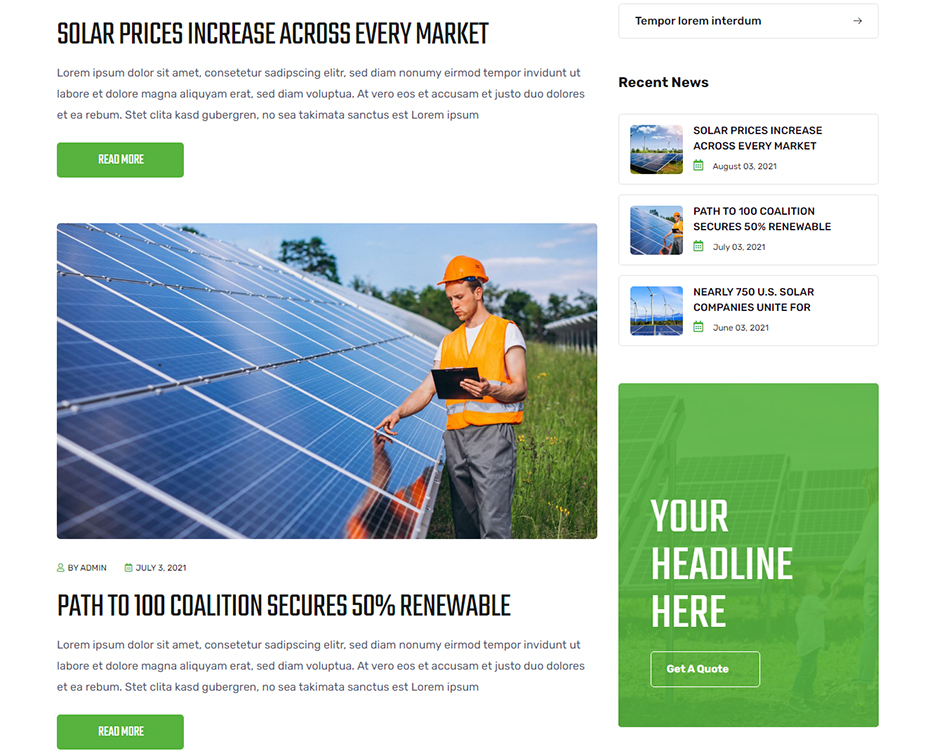 And available advantages such as:
Responsive Layout Design: We've made sure the Gettree Theme looks great on both mobile, desktop and Ipad devices.
WPML & Translation Ready: The Gettree Theme is compatible with most of the popular WordPress plugins today, supports multilingual layouts, and translates your website into any language you want with WPML!
Advanced typography options: You can choose any font available on google to create your own style.
1. Implemented using Elementor Page Builder:
This is an advantage of Zingbox – Wind & Solar Energy WordPress Theme. Elementor Page Builder is a front-end page builder plugin. Support you in the drag and drop process so it is easy to use and saves time.
To use the Zingbox Theme for solar projects, simply change the content in your website to suit your style by dragging and dropping the widgets and saving. It is very simple and saves you time.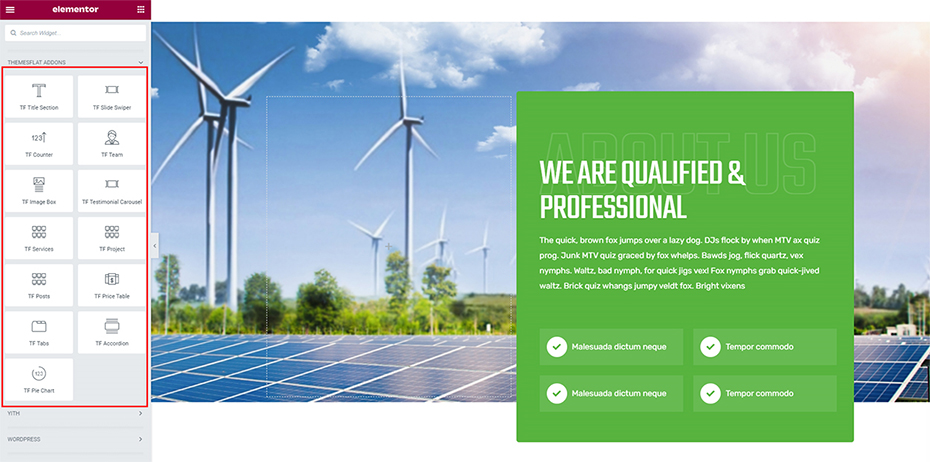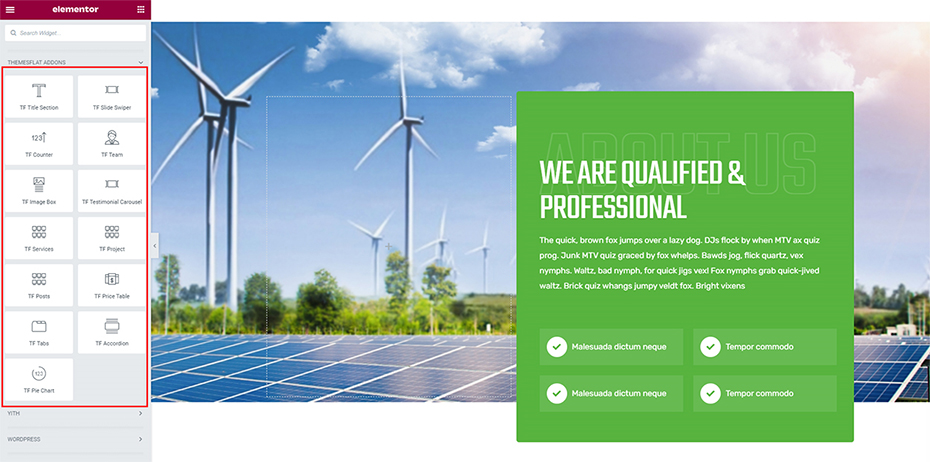 2. One Click Demo Importer :
Another advantage of Zingbox Theme is that you only need to install it using the demo data importer, you only need to wait a few minutes and our Zingbox Theme demo will be available.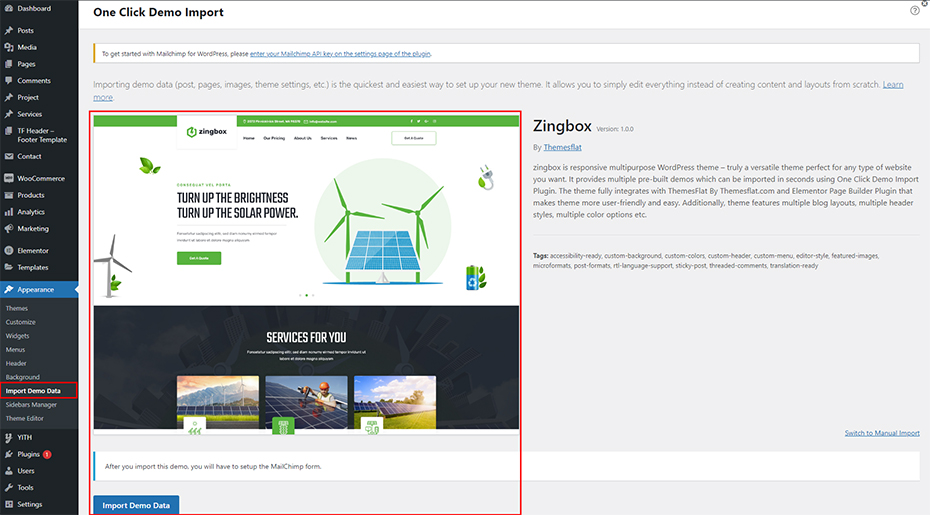 Your job is to simply replace the content, drag and drop and make changes to fit your ideas. We also have a Video to guide our customers and those who want to learn about the Zingbox Theme, you can find out here.
3. Three options for the homepage
The theme is built with three homepages for you to choose from
With 3 homes, you can choose home 1 or home 3 to suit your style best.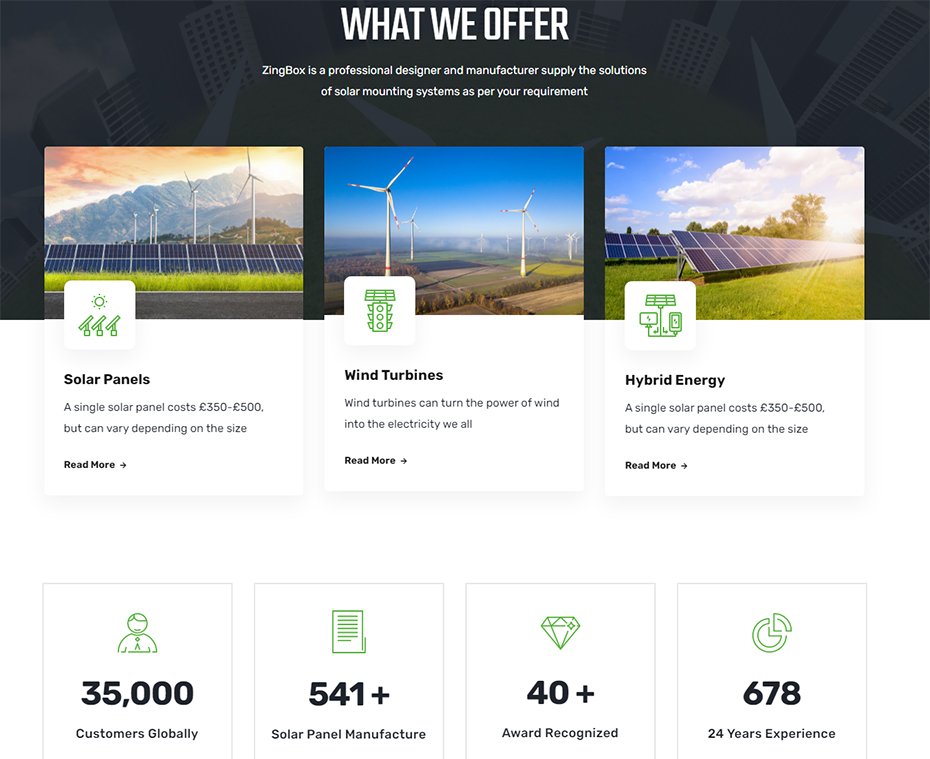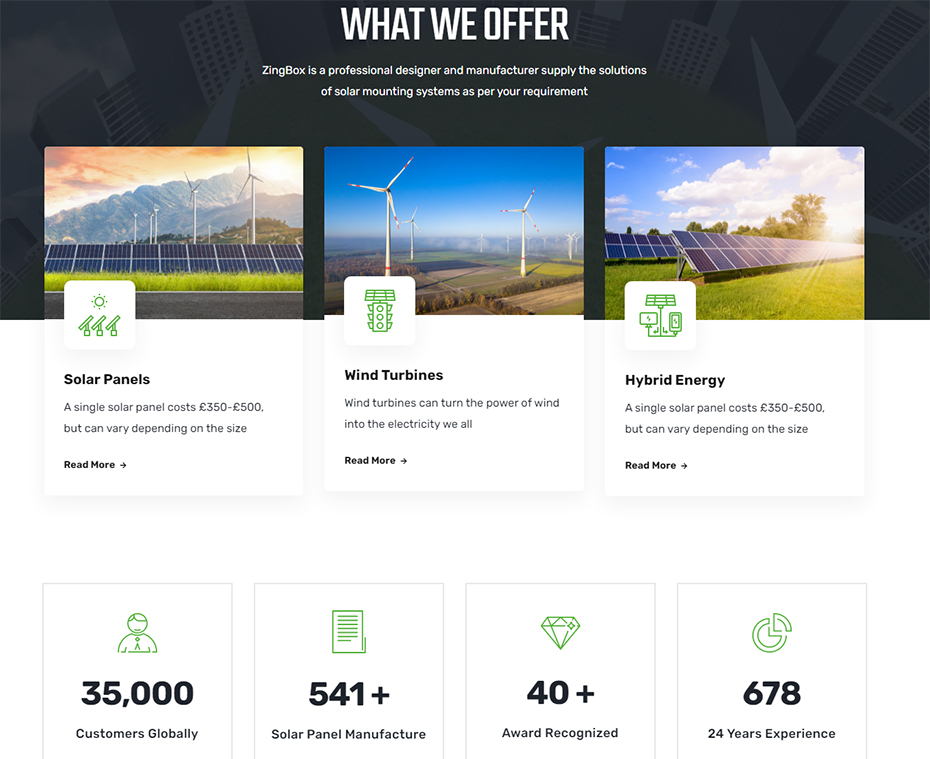 The big difference between the 3 homes is the different header, footer, content, and layout. No matter which homepage you choose, all can express the uniqueness of the Zingbox Theme.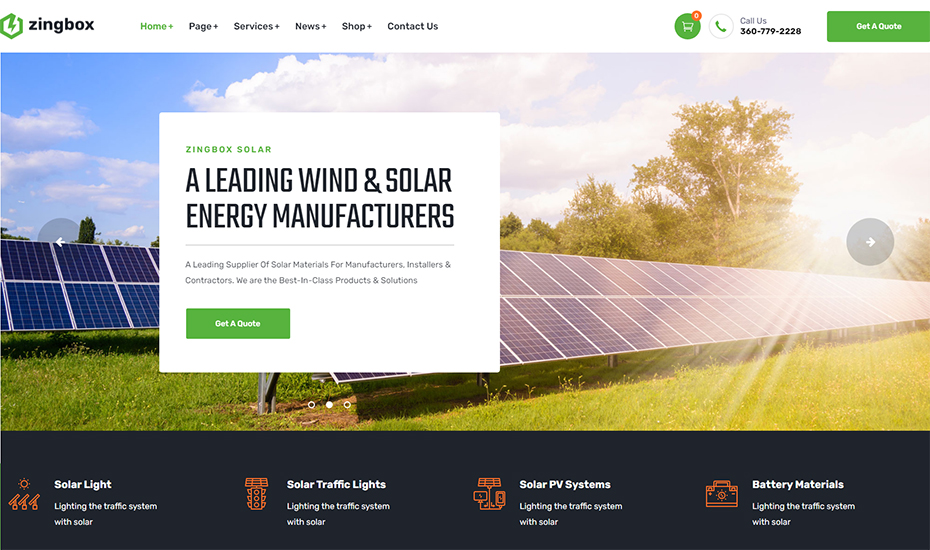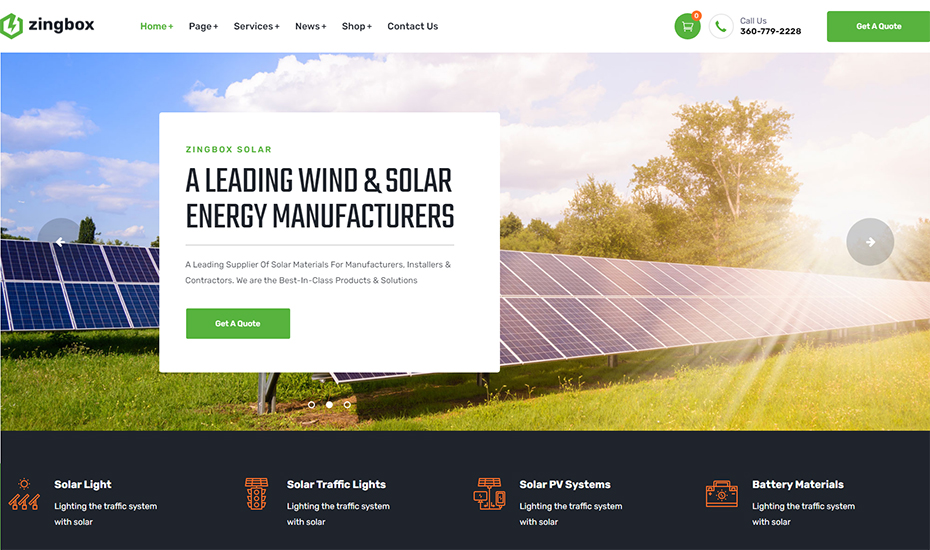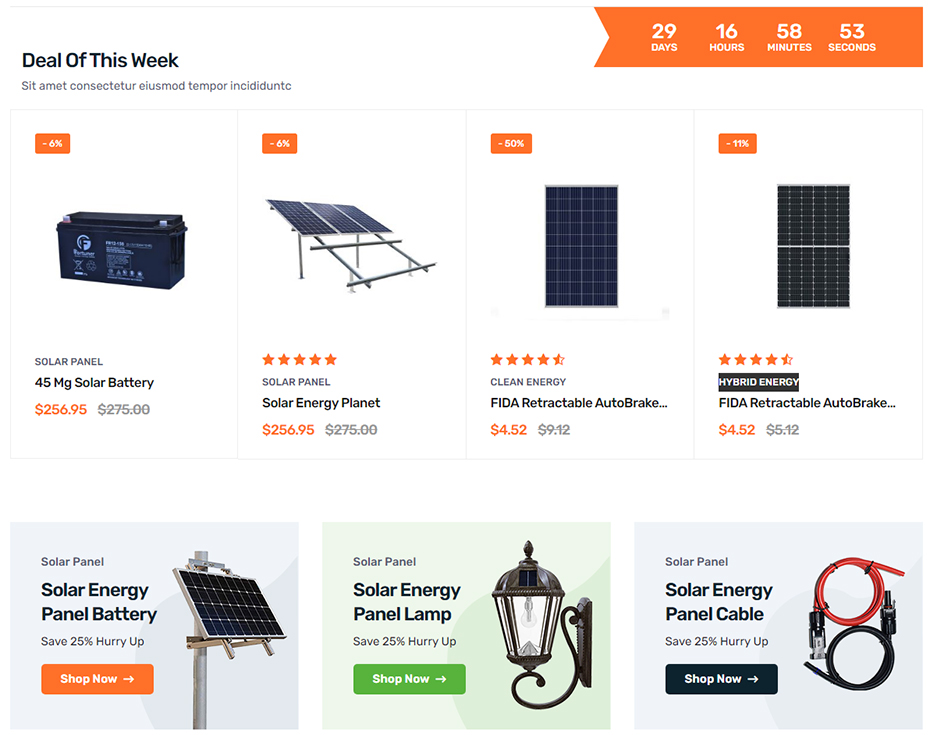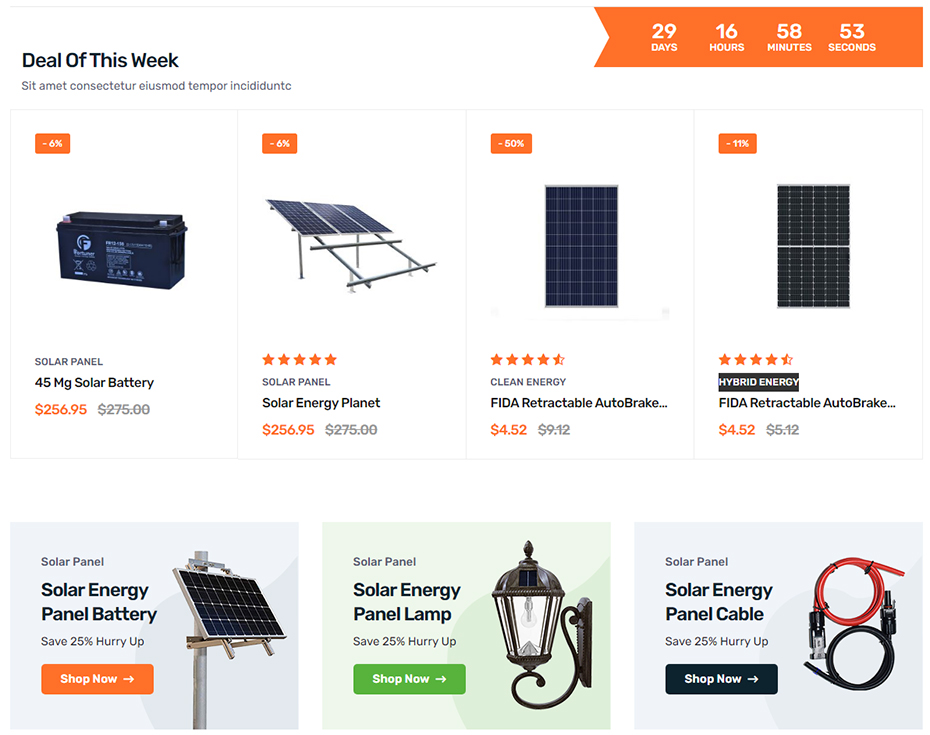 There are not only 3 homepages to choose from, but among them, the main color of the Zingbox Theme is also a decisive factor in the perfection of the website.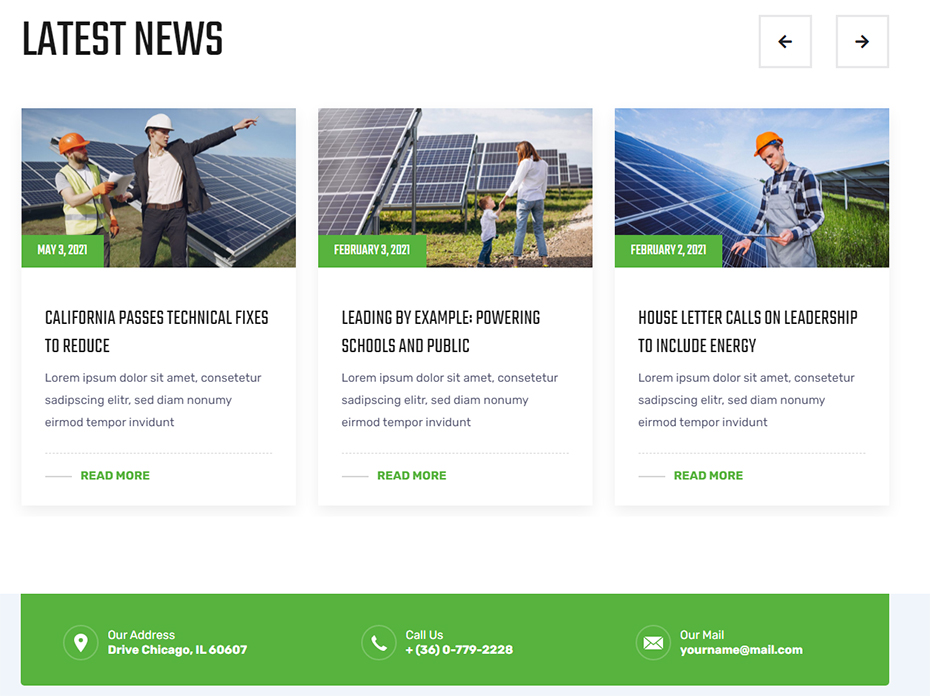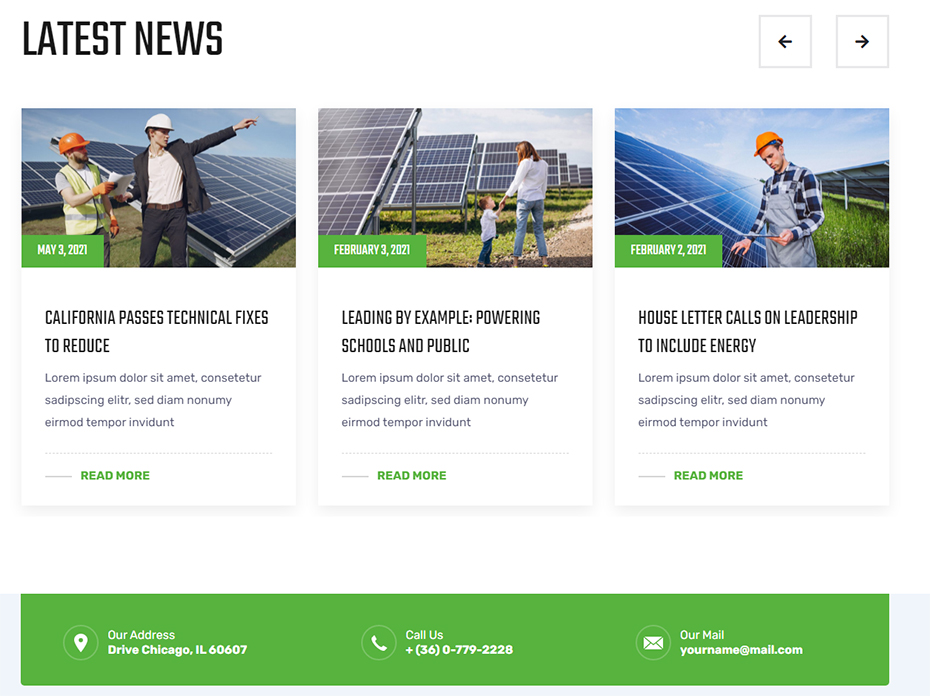 The main colors of the Zingbox – Wind & Solar Energy WordPress Theme are green, white, and black. It fits perfectly with the solar battery theme
In particular, we also offer the arrangement of the content in the website according to a clear, logical and eye-catching layout.
4. 16+ variant inner pages
With more than 16 small pages, it has partly made the Zingbox Theme richer and unique. All of them follow the main color, which is green, black, white. Create harmony, harmony, and easy-to-see when using the Zingbox Theme website.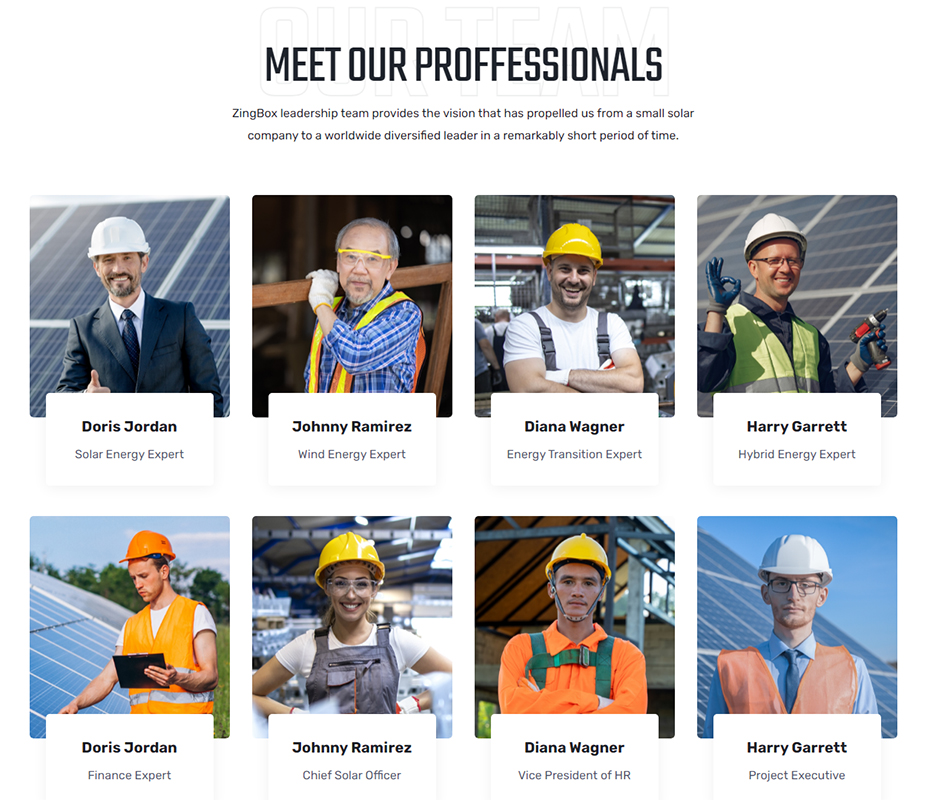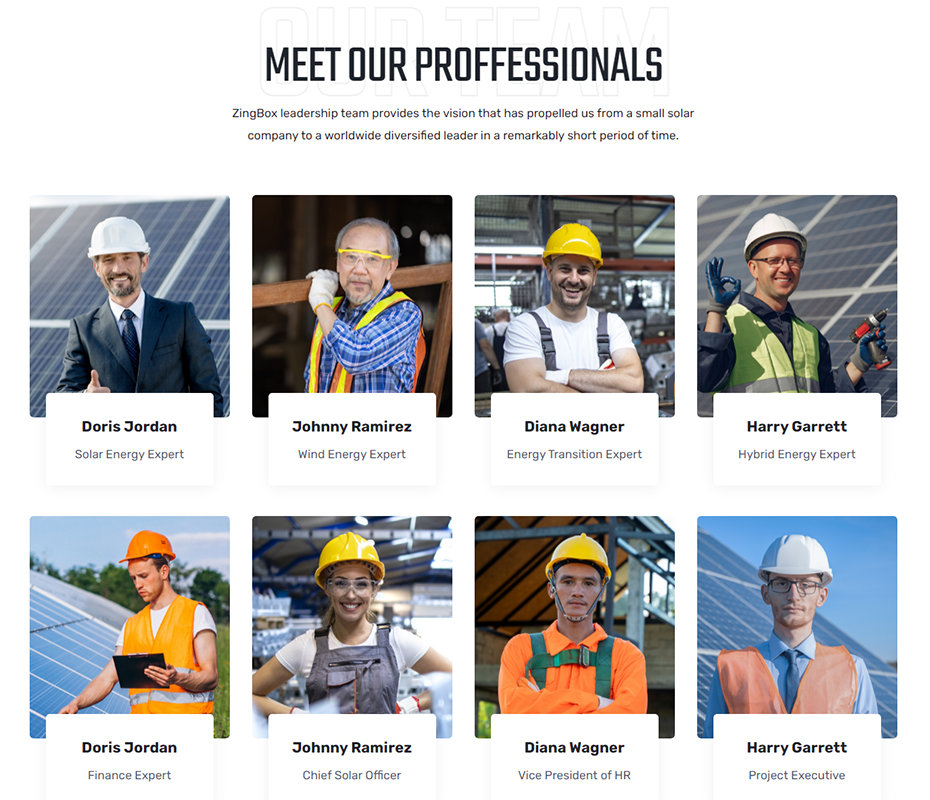 We diversify all pages so that the Zingbox Theme is always diverse and customers feel satisfied. So we set up separate functionality for the pages. All are to meet the needs of making websites with themes about solar batteries, wind energy, renewable batteries,… It is a motivation for us to always update new functions for the Zingbox Theme.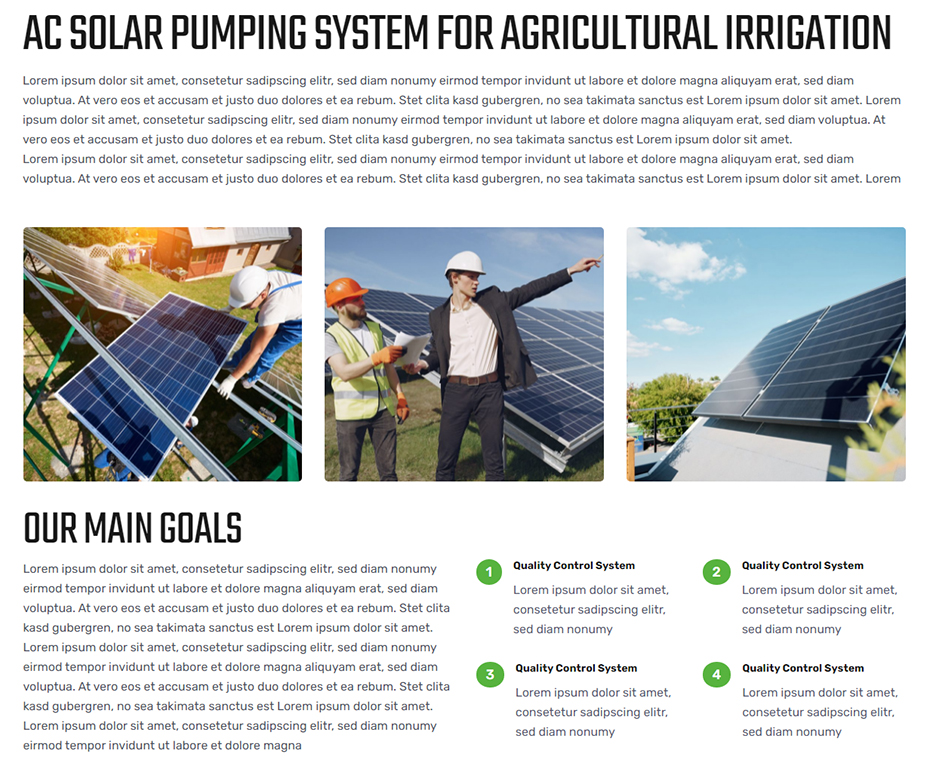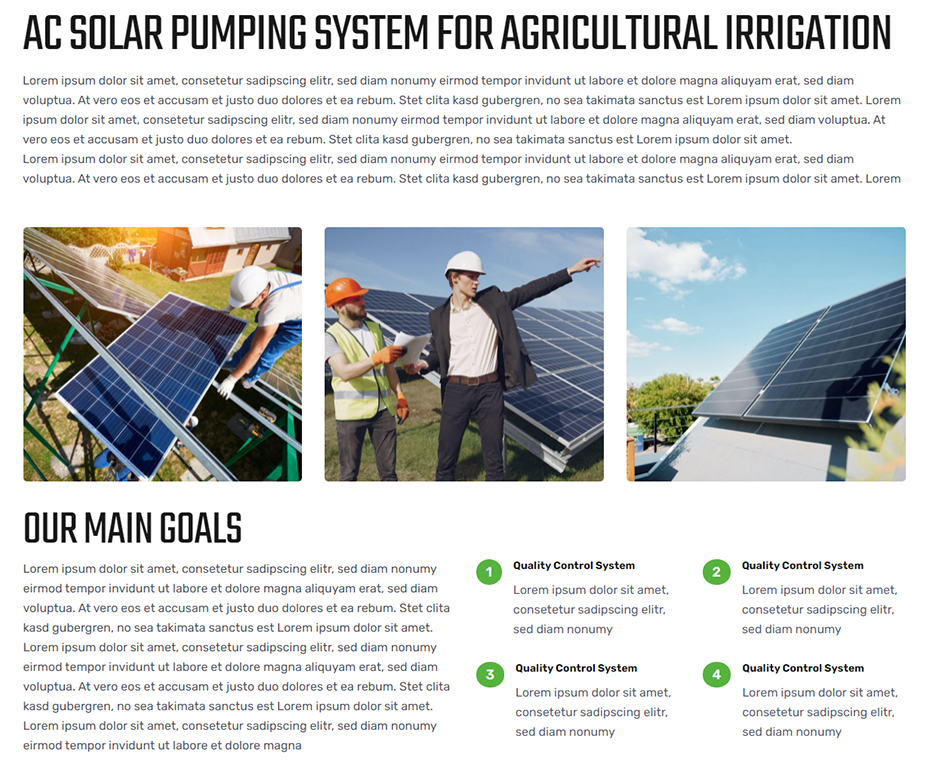 We always create websites based on logic and dominant colors. The purpose is to create diversity, richness and create more choices for customers.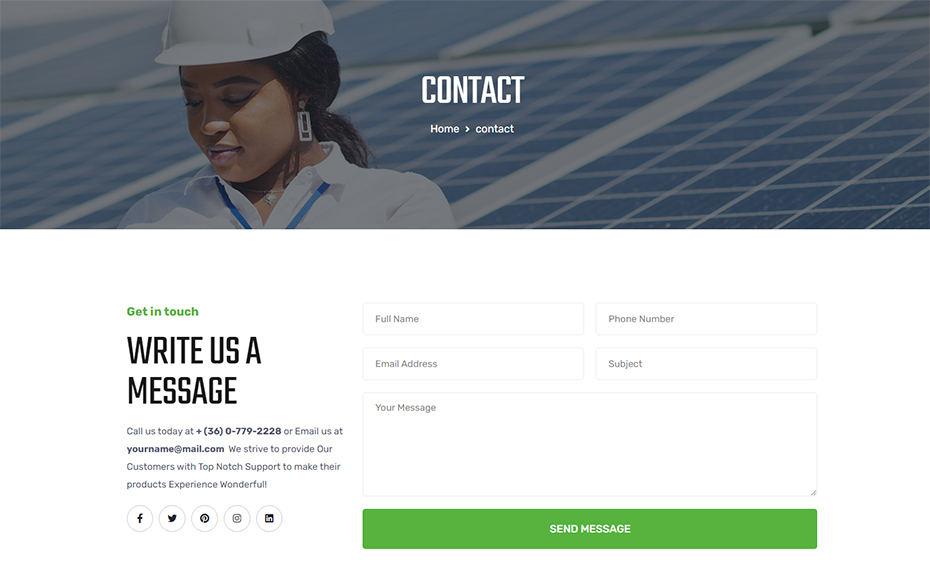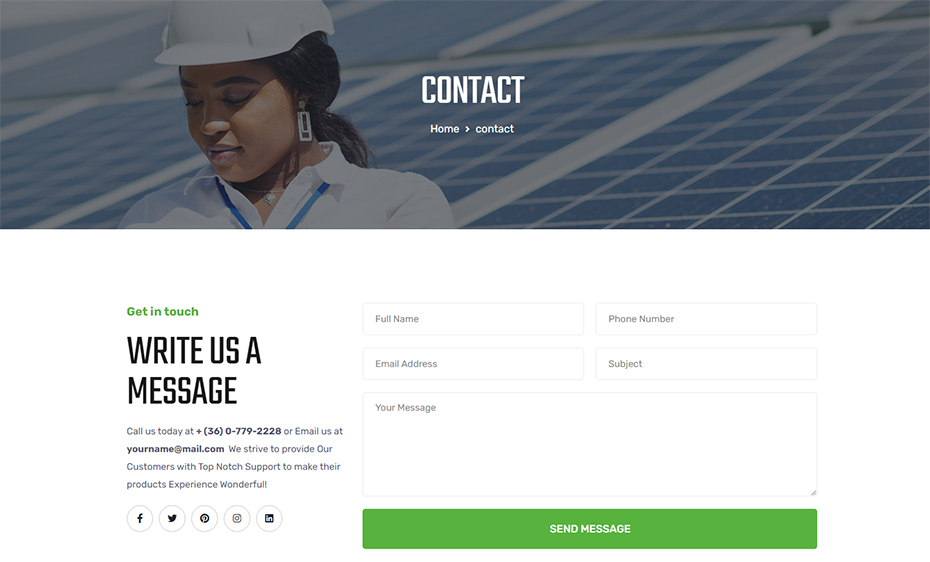 5. 135 Wind Solar Icons
One element that sets the Zingbox – Wind & Solar Energy WordPress Theme apart is the solar theme's 135 wind solar icons. This is an icon set created specifically for the Zingbox Theme, allowing customers to choose the most suitable icons for their website.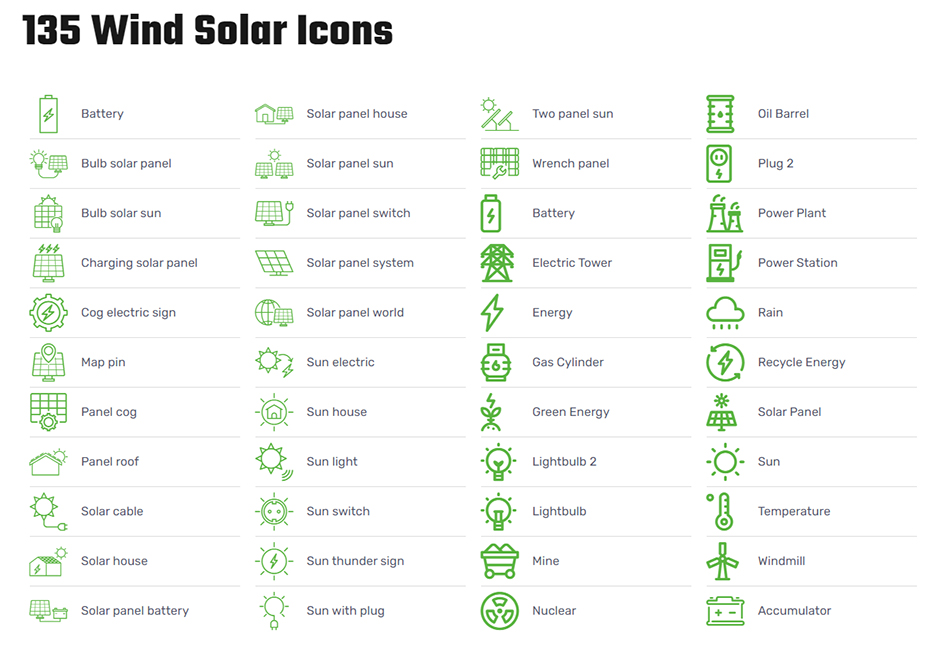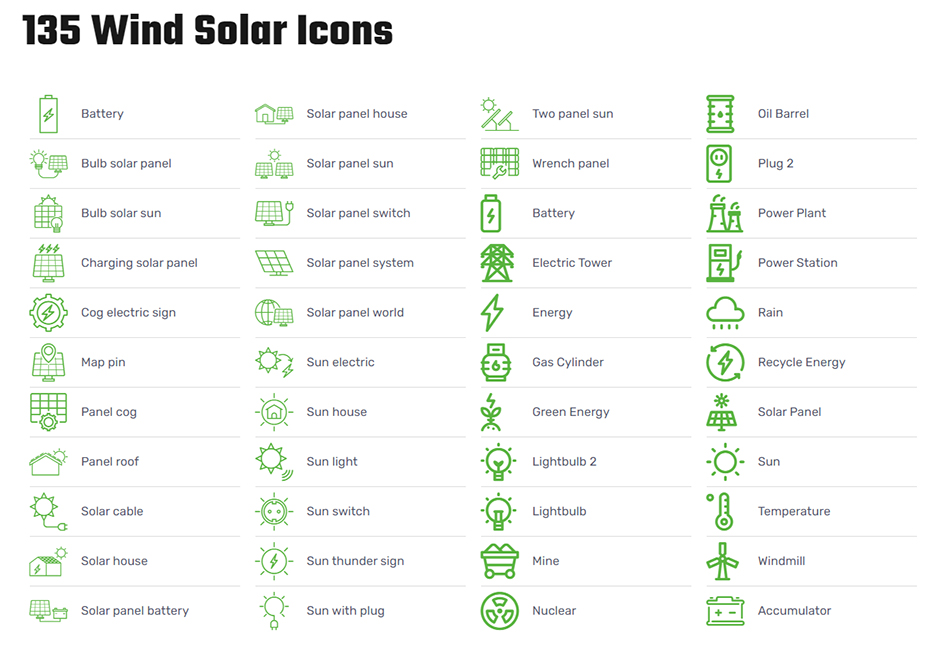 6. Easy to use with Themesflat Widgets
Just by looking to our widgets, you can build a website like the Zingbox Theme demo easily.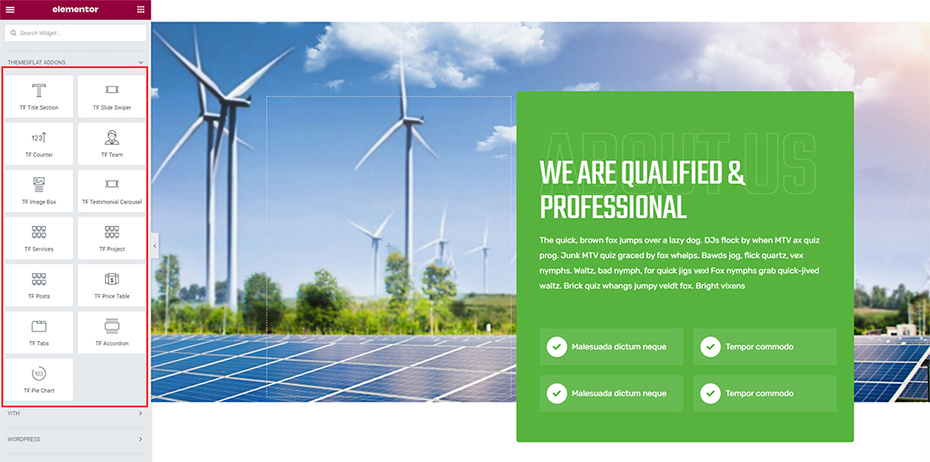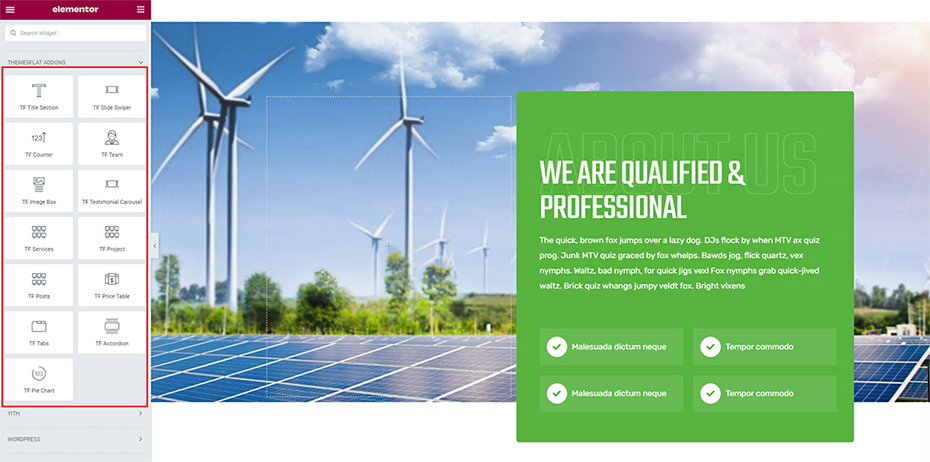 Just drag and drop our built-in widgets make it very easy to build a perfect solar battery website. In our widgets, each widget has a distinct and different function. We built it. You just need to change the content to fit your style and you're done. The last thing is that you save and enjoy the results you create.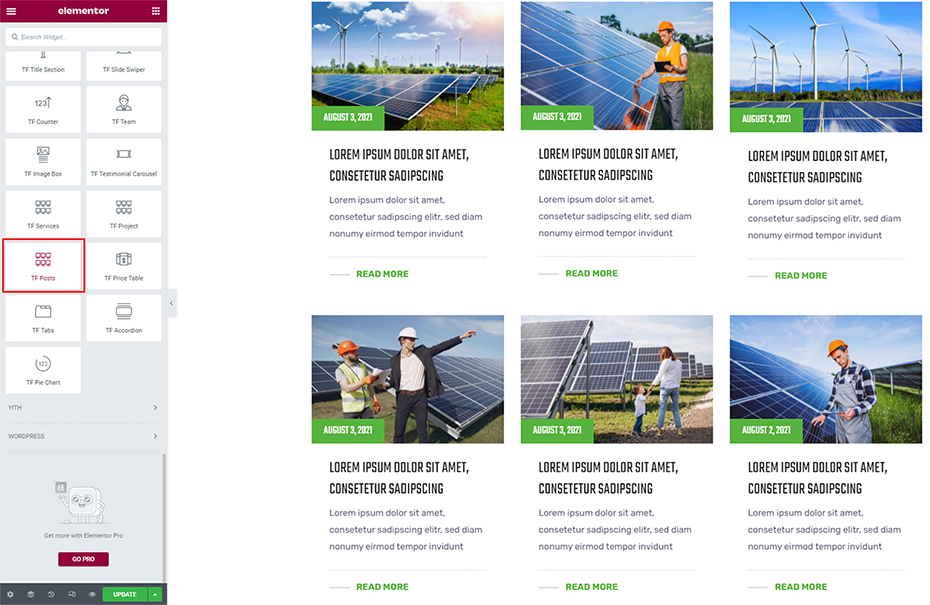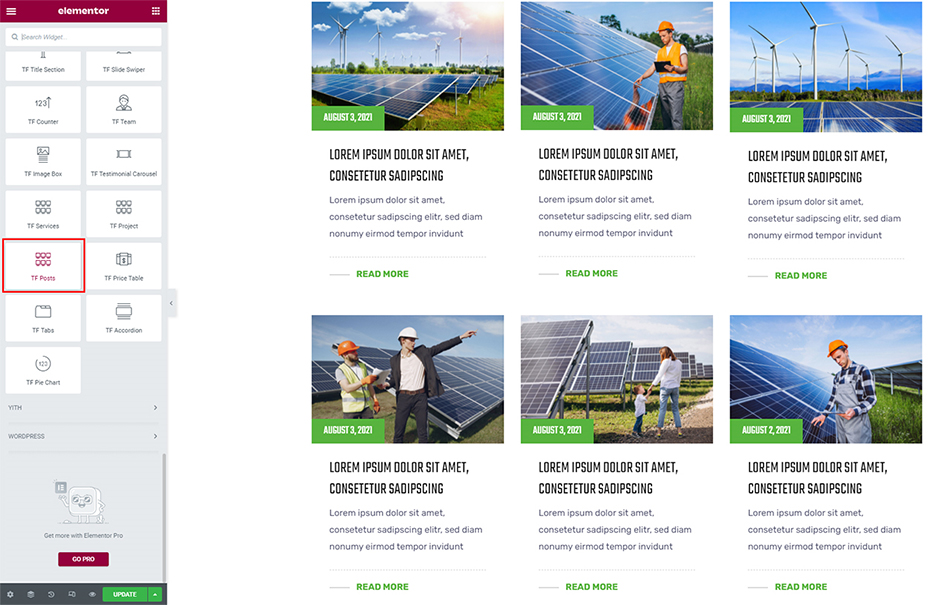 7. Lifetime Updates and User Support
When you purchase the Zingbox Theme or any other theme at Themesflat, you will always enjoy lifetime updates to new versions. We always improve our products so that they are optimal and suitable for, customers and changing trends of the world.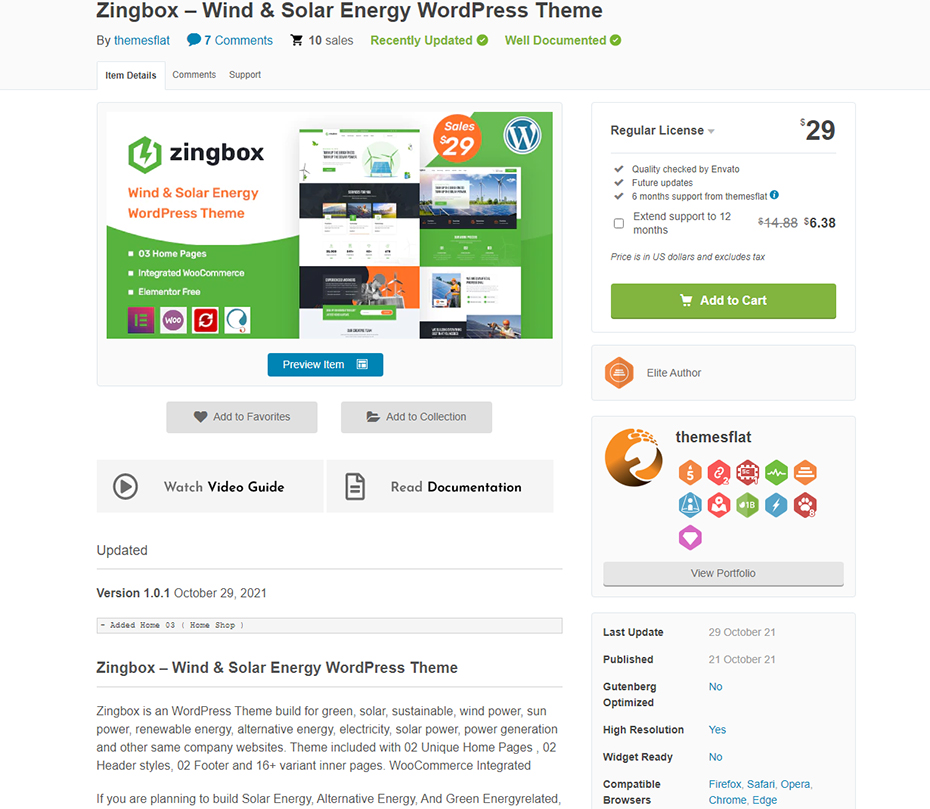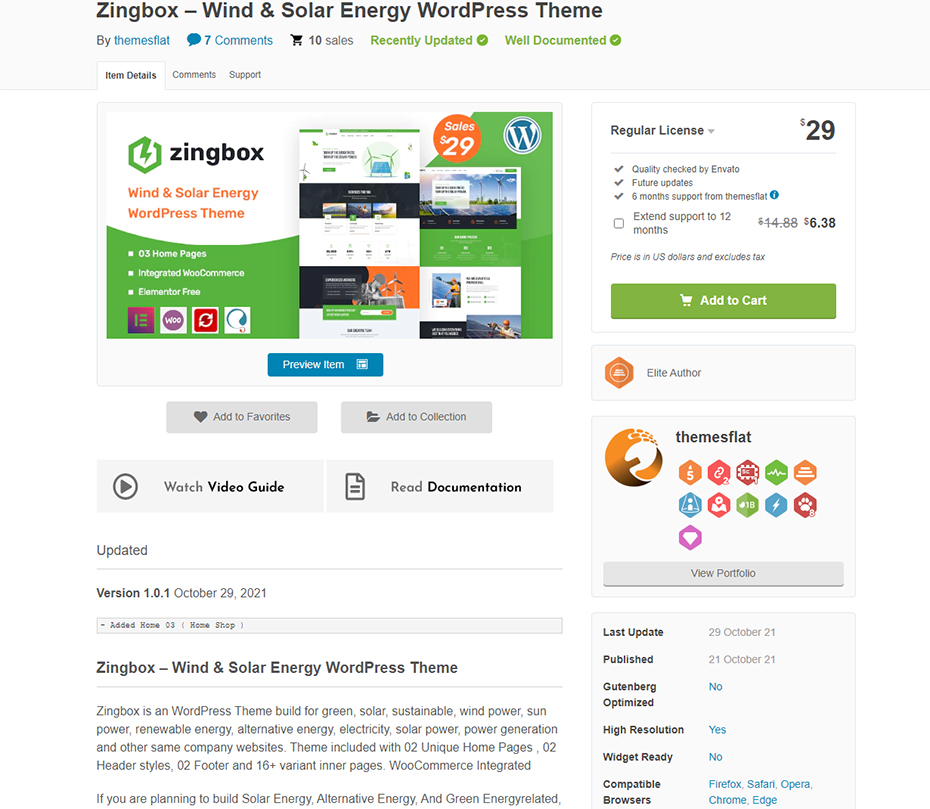 Along with that is supporting customers with difficult problems when using Zingbox Theme and themes from us. We work in the spirit of customer satisfaction, create benefits for both parties and especially care about customer satisfaction.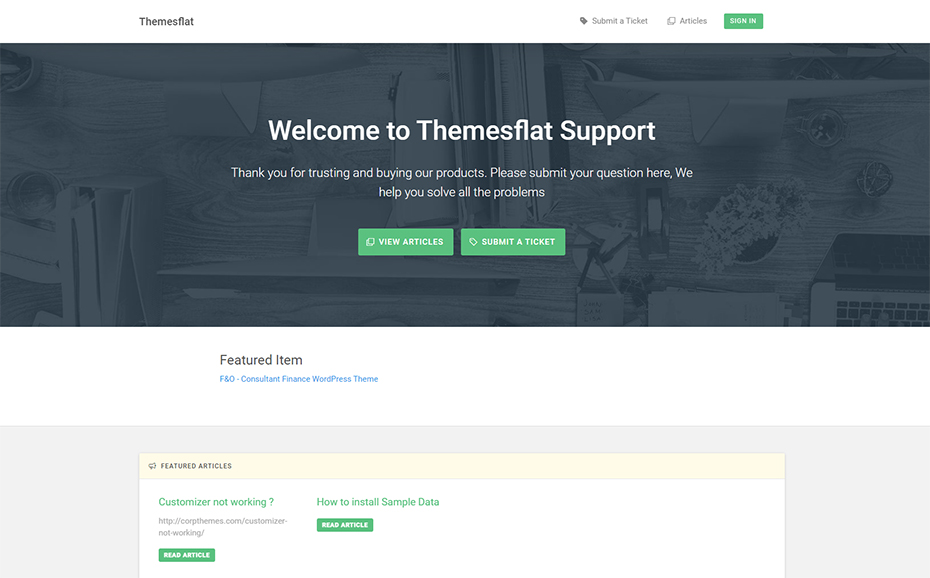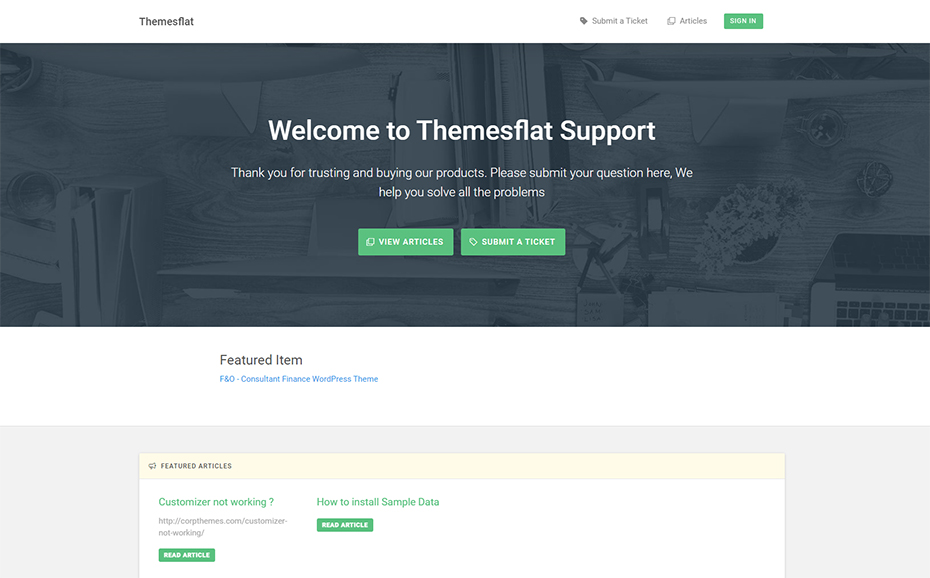 If you want to learn and order Zingbox – Wind & Solar Energy WordPress Theme please click here.
We always strive to give you the best experience. If it's great for your website, please rate it 5 stars and leave us a comment.
If you have any question please contact via:
Email: helpdeskthemesflat@gmail.com
Skype id: helpdeskthemesflat
Thank so much!